Your Treatment
You will be prescribed bimatoprost to grow your eyelashes longer, thicker and darker. This is available in two forms: in the Mylash set or as Latisse.
What is the difference between Mylash and Latisse
Mylash offers Lumigan® which has the same active ingredient as Latisse® and both are made by Allergan. There has been no modification or rebranding and everything is sealed.
How long will one bottle last?
Most people find that one bottle will last 3 to 4 months when used each day. The packaging of Latisse states that one bottle will last one month but most find that this only happens when you are applying too much fluid per application.
How soon will I see results?
The first results are often visible within 4 weeks but the best results take 16 weeks.
Applicators
The Mylash set comes with a precision applicator. We have carried out extensive research and found that this applicator minimises wastage and allows for a more accurate application. The Latisse brush is significantly thicker than the Mylash brush and many people find it excessively large and wasteful. If you want some precision applicators but still want Latisse then email us with your order number and we will happily send you some for free with your order.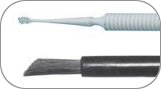 Free Delivery
95% of our UK orders arrive within 3 working days. We deliver from within the UK and delivery requires a signature. Europe, the Middle East, Africa, Asia and Australia can take 5 working days or longer due to customs. There are no custom charges to pay within the UK. We try to avoid custom charges for all international deliveries but sometimes a charge is levied.
Clinical evidence shows that you can grow your eyelashes
To gain approval for the American market, this treatment underwent clinical trials to satisfy the American FDA (Food and Drug Administration). The studies were carried out on healthy individuals and found that after 16 weeks the average study participants eyelashes were 25% longer, 106% thicker and 18% darker. Mylash is run by British medical doctors and if you are reading this then your medical details will have been reviewed by one of our team. We prevent certain groups of people using the treatment, such as pregnant females - although there is no evidence that it would cause harm to an unborn child, there is no evidence to prove that it is entirely safe. We have patient safety as our priority. The most common side effect of the treatment is irritation at the site of application which was seen in less than 3% of people in the trial. If you have any specific medical questions then please feel free to contact us at any time.
Pictures from the clinical trial